Click on photo to enlarge. Scale line in photo equals 1cm unless otherwise specified.

*
Species which are commonly encountered on the beach.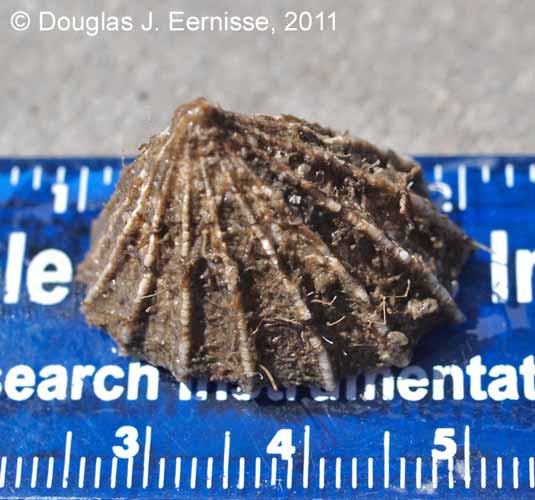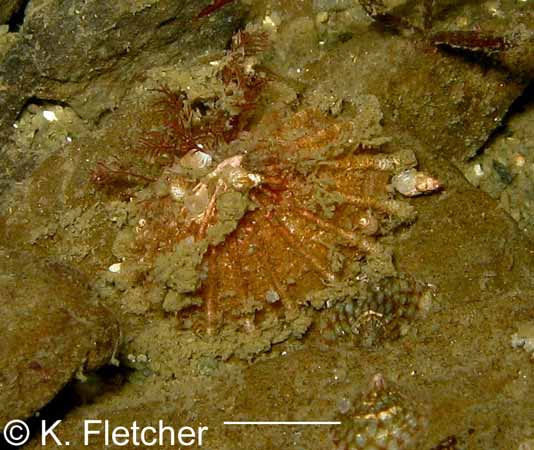 San Juan Islands, WA Bremerton, WA, very low intertidal Rich Passage, WA, subtidal,
with parasitic odostomid snails

Puncturella cucullata
(Gould, 1846)
Hooded Puncturella

very low intertidal to 200m northern Mexico to central Alaska size to 42mm
This is common subtidally but fairly rare to find intertidally. It's widely spaced ribs are distinctive from our other local species. The ribs extend to the basal edge.
(synonyms -

Cranopsis cucullata

,

Puncturella multirugosa

)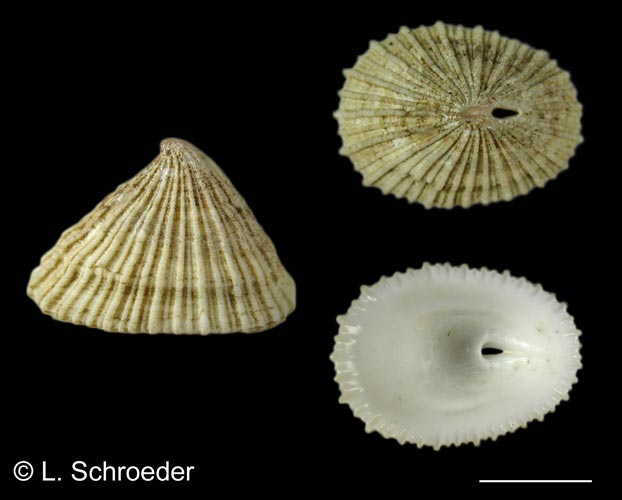 San Juan Islands, WA

Puncturella multistriata

Dall, 1914
Many-Ribbed Puncturella
intertidal to 91m
size to 20mm

northern Mexico to northern Alaska
This is not commonly seen intertidally. It has smaller and more closely spaced ribs than

C. cucullata

. The basal edge is smooth. The interior structure behind the slit forms a semi-circle.
(synonym -

Cranopsis multistriata

)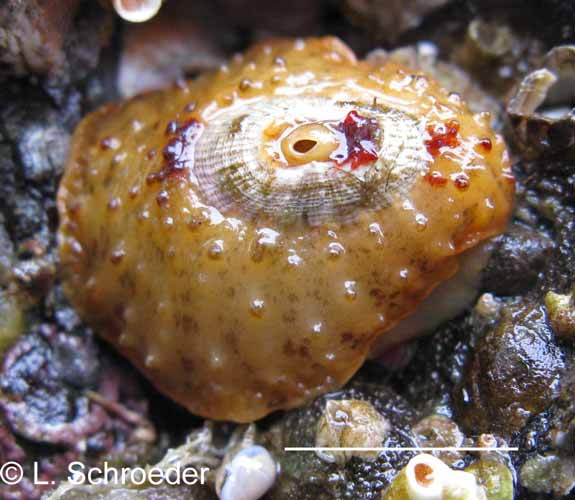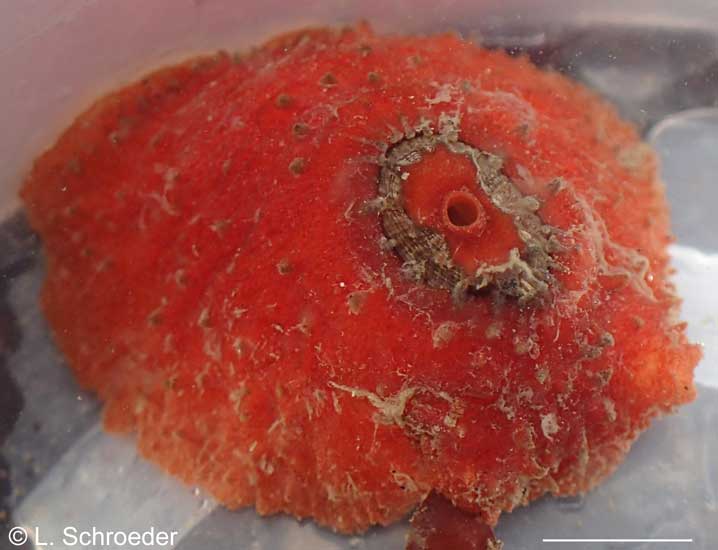 Sooke, BC Neah Bay, WA, intertidal Cape Arago, OR, intertidal Yoakam Point, OR, intertidal
Fissurellidea bimaculata

(Dall, 1871)
Two-Spot Keyhole Limpet

intertidal to 33m
northern Mexico to southern Alaska
size to 50mm
This is infrequently seen intertidally. The shell is much smaller than actual animal. The dead shell can sometimes be found
washed up among rocks. The living animal can be difficult to spot among the sponges and tunicates where it hides. The body color is variable.
(previous name -

Megatebennus bimaculatus

)

Diodora aspera

(Rathke, 1833)
Rough Keyhole Limpet
*
intertidal to 40m
size to 76mm

Nicaragua to northern Alaska
This is commonly found intertidally. It is far larger than any of the other local keyhole limpets. The keyhole is round and large compared to the other species, which exhibit more of an elongated slit opening. The shell may be all white or striped in black. The shell is frequently encrusted with other marine life. The animal often shares its shell with a co
mmensal worm,

Arctonoe vittata

, which helps act as a defensive mechanism, biting its attacker.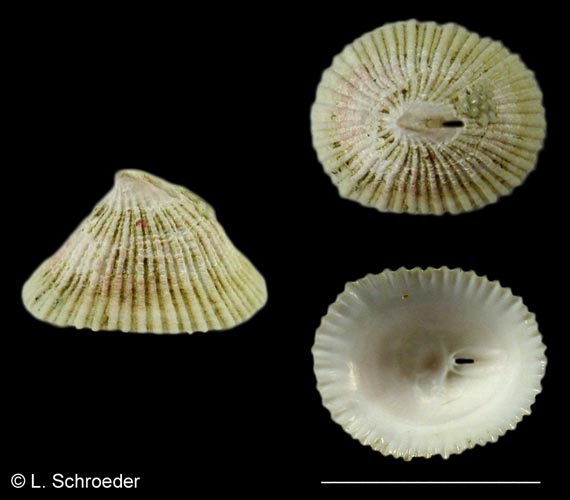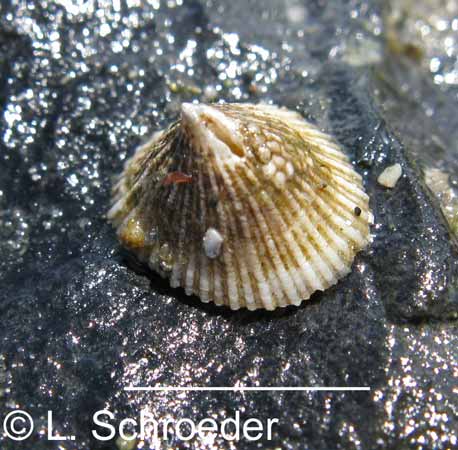 San Juan Islands, WA Oak Bay, WA, very low intertidal
Puncturella galeata

(Gould, 1846)

Helmet Puncturella

subtidal, 19 - 137m southern California to northern Alaska size to 20mm
Normally found only subtidally. It was extremely unusual to find the above specimen
intertidally. This species can look very much like some of the other keyhole limpets.
It can be distinguished by the interior structure behind the slit. It exhibits both a
straight shelf and a semi-circular structure.

Puncturella

cooperi

Carpenter, 1864
subtidal to ? size to 10mm
southern California to southern Alaska
This is found subtidally and is very rare to see.
The height is nearly equal to the length. The
interior structure behind the slit is straight.
This page last revised: 6-20-2019

Gastropods
Family Fissurellidae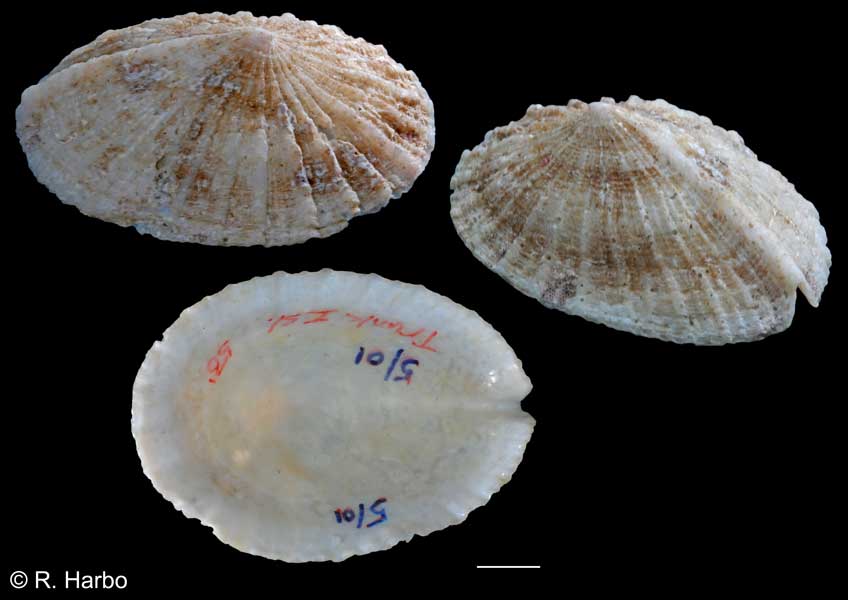 Ketchikan, AK

Scelidotoma bella

(Gabb, 1865)
Elegant Emarginula
subtidal, 10 to at least 50m size to 75mm
southern California to Ketchikan, Alaska
It is only found subtidally and then very rarely. It has regular radial ribs and a small slit on the anterior side. The apex curves toward the posterior.
(previous names -

Hemitoma bella

)