Bivalves
Family Nuculanidae, Nuculidae,
Yoldiidae, & Glycymerididae
Nuculana minuta

Müller, 1776
Minute Nutclam
subtidal, 4 - 1900m size to 18mm
Panarctic and circumboreal, to southern California in the
eastern Pacific, to Japan in the western Pacific, to Maine
and Scotland in the Atlantic
It is very small and is distinguished by its truncated rostrum,
widely spaced commarginal ribs and shiny yellow to dark
brown periostracum.
(previous names -

Arca minuta, Leda minuta

[various forms])

Nuculidae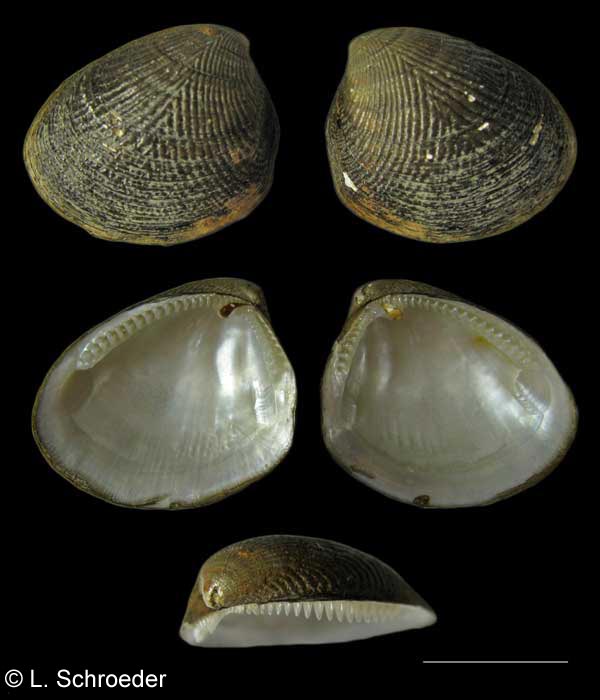 Acila castrensis

(Hinds, 1843)
Divaricate Nutclam

subtidal, 5-400m size to 20mm
northern Mexico to the Bering Sea and
off the Kamchatka peninsula
It is small and distinguished by its
divaricate sculpture. The periostracum
is dull and light olive
to dark brown. Although not found intertidally, it is
very common to find subtidally in the northwest.
(synonyms -

Nucula castrensis,




N. divaricata, Acila beringiana

)
Glycymerididae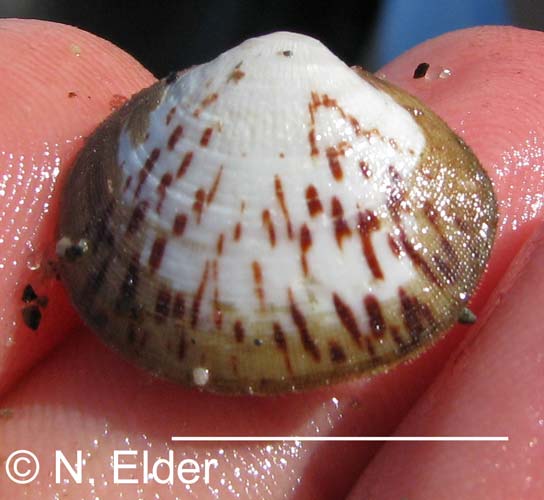 Glycymeris septentrionalis

(Middendorff, 1849)
live specimen
Western Bittersweet

intertidal to 400m northern Mexico to southern Alaska size to 45mm
It can be found intertidally at good low tides. It has a chalky white shell with brown flecks and maculations. There are numerous teeth on the
shell margin and on either side of the hinge. The hinge size and shell sculpture can vary widely. The interior is often yellow with brown stains.
(synonyms -

Pectunculus septentrionalis, Glycymeris subobsoleta, Glycymeris profunda

)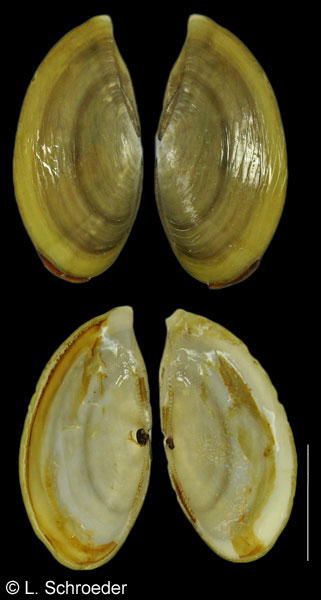 Yoldia seminuda

Dall, 1871
Oblique-Lined Yoldia

subtidal, 15-375m size to 40mm
southern California to Bering Sea;
northern Japan to Sea of Okhotsk
It has an elongated, thin shell.
The periostracum is adherent and
shiny yellow to dark brown.
(synonyms -

Nucula arctica,




Yoldia scissurata

)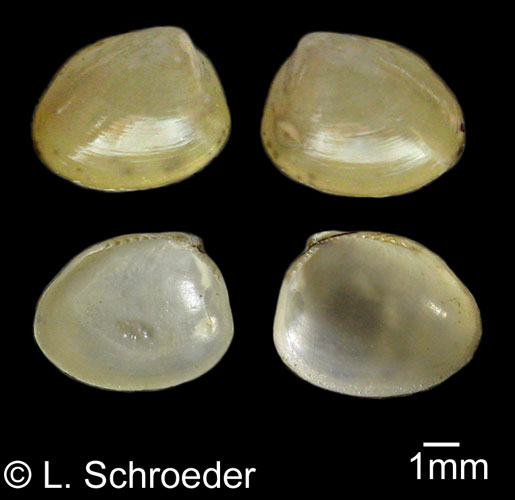 Ennucula tenuis

(Montagu, 1808)
Smooth Nutclam
subtidal, 10-900m size to 17mm
circumboreal and Arctic ocean, reaches south to southern
California, Florida, Mediterranean, and northern Japan
The periostracum is light olive to dark brown and the shell is smooth.
(previous name - Nucula tenuis)

This page last revised: 8-16-2011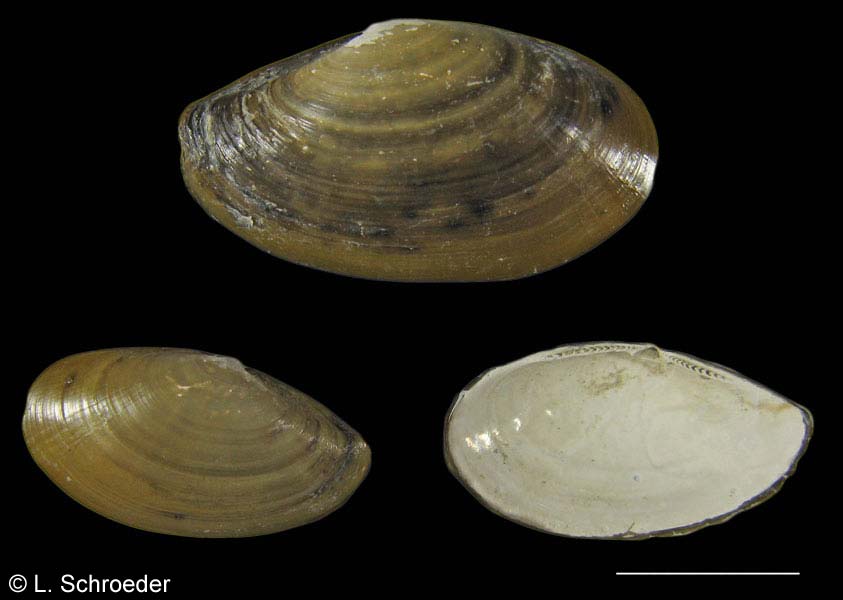 Yoldia myalis

(Couthouy, 1838)
Oval Yoldia

subtidal, 20-165m size to 30mm
northern Washington to Bering Sea; Maine to
Hudson Bay and also Sea of Okhotsk
The posterior end is broadly rounded. The dark
brown periostracum may be dull or silky.
(synonyms -

Nucula myalis, Yoldia vancouvernesis

)

Click on photo to enlarge. Scale line in photo equals 1cm unless otherwise specified.

*
Species which are commonly encountered on the beach.